If you haven't heard, the latest trend in K-beauty skincare is called "7 Skin Method".  It is suppose to provide more intense hydration while eliminating the clutter created by all the products necessary for 10-step skincare regimens.
The term 'skin' is a preferred term among Korean products for toners.  'Booster' is another common term you may come across that refers to a category of toners.  As the name suggests, 7 Skin Method simply means you apply your preferred skin / booster / toner 7 times.  Sarah at Glow Recipe wrote about her take here.  The most important thing to remember here is to use a non-astringent toner.

This non-ending winter in NY has taken a toll on my skin, not just from the harsh weather but also from the dry air due to heating systems.  (I mean… how many humidifiers are too many for a tiny NYC-sized apartment?  4?  Good, because I have 3.)
Not too long ago, I changed up my skincare regimen – to compensate for dry skin, I found myself adding more and more deep-moisturizing products into my arsenal and at some point, it started to become too much.  So I tried the 7 Skin Method.  And despite my skepticism going into it, I quite like it.
I love Whamisa line of products, especially their Flowers Water Cream.  And since I had an unopened bottle of the Flowers Deep Rich Essence Toner (you can buy it here or here), it seemed like a good place to start.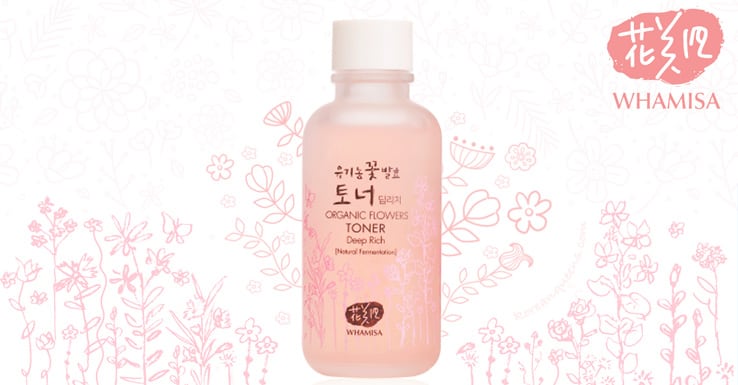 I cleansed my face as usual.  I've been using oil-to-foam cleansers such as this little cutie, which reduces the cleansing process from 2 to 1.  And then as the name indicates, I applied the toner 7 times.  Yes, 7.  Though to be perfectly honest, I typically lose count after the 4th application so for me it is more apt to call it a 5-9 Skin Method.  It is important to pause in between applications for the product to absorb fully.
At first, this bored me to death.  Just standing there in front of my bathroom vanity, literally watching paint dry – in this case, paint being toner and my face being the canvas… but you get the idea.  Until I realized one night that since it's the same product applied repeatedly, I could just take the bottle with me and take my rightful throne in front of the TV.  And because I'm lazier than I'd care to admit, I ordered one of these and transferred the toner into the new container.  One pump dispenses the perfect amount for a single application.  No more needing to shake the bottle up and down only to spill, or developing carpal tunnel syndrome from repeated motion!
I followed the 7 Skin Method with some eye cream and a moisturizer or cream, or at night a sleeping pack.  But the final moisturizing step is optional since hydration from the 7 toner applications may be sufficient.  As for me, as much as I enjoyed the combination of lightness and hydration from this approach, I HATED the stickiness of Whamisa toner.  So it was necessary for me to top it off with a product that helped reduce that stickiness.  If I was applying makeup next, a nice primer did the trick.  If I was going to tolerate a naked face, I reached for one of the two Skinfood pore serums – Peach Sake or Sparkling Green Apple – but only because I am not a fan of that dewey look (I have very oily T-zone so that dewey look disintegrates very quickly into a super greasy look within hours.)
After a few weeks of this new regimen, my skin feels lighter.  I was getting plenty of hydration from my previous routine, but the richness of the products made my skin feel thick or heavy, so this has been a nice break.  I've also tried a few different toners aside from Whamisa.  I've always loved Nature Republic boosters like the Aqua line or the Collagen Dream 90.  I've also started using Klairs Supple Preparation Toner as the 1 step of 7 Skin Method and using a different product for the remaining applications.
One thing I learned to avoid is using a toner that is watery.  You want to find a product that has a bit of substance – this will make application easier and guarantee less spillage, as well as waste (with watery toners, cotton pads are a must!).  And while this has been a welcome break, I don't plan to stick with this regimen long-term.  Of the multitude of 10-step regimen, my favorite has always been the essence/serum – I always found those products to be most 'therapeutic' for my skin.  Chances are, I will modify this to be more of a "3 Skin 3 Essence" Method.  But for now, I'm enjoying being untethered to my vanity during most of my skincare routine… and my husband appreciates finally getting some vanity space.  It's a win-win.